Towards a Feminist Translator Studies
Intersectional Activism in Translation and Publishing
---
Price : 4.000 TOMAN
PDF 170 english pages
---
راهنمای سریع دانلود،
کلیک کنید
.
---
This pioneering work advocates for a shift toward inclusivity in the UK translated literature landscape, investigating and challenging unconscious bias around women in translation and building on existing research highlighting the role of translators as activists and agents and the possibilities for these new theoretical models to contribute to meaningful industry change.
The book sets out the context for the new subdiscipline of feminist translator studies, positing this as an essential mechanism to work towards diversity in the translated literature sector of the publishing industry. In a series of five case studies that each exemplify a key component of the feminist translator studies "toolkit", Vassallo draws on exclusive interviews with a range of activist translators and publishers, setting these in dialogue with contemporary perspectives on feminism and translation to propose a new agent-based model of feminist translation practice. In synthesising these perspectives, Vassallo makes a powerful argument for questioning existing structures in the translated literature publishing system which perpetuate bias and connects these conversations to wider social movements towards promoting demonstrable change in the industry.
This book will be a valuable resource for students and scholars of translation studies and publishing, as well as for the various agents involved in promoting translated literature in the UK and beyond.
---
Table of Contents
 Introduction: Towards a Feminist Translator Studies
Chapter 1: Action. Committing to gender activism with And Other Stories
Chapter 2: Representation. Re-negotiating cultural encounters with Charco Press
Chapter 3: Responsibility. Publishing against the "proven formula" with Comma Press
Chapter 4: Risk: Shifting power dynamics with Fitzcarraldo Editions
Chapter 5: Hospitality: Publishing against the mainstream with Tilted Axis Press
Conclusion: Publishing Beyond Bias? From resistance to resilience
Index
---
Author
Helen Vassallo is Associate Professor of French and Translation at the University of Exeter (United Kingdom). Her primary research interests are in translated literature and feminism, with a focus on contemporary women's writing and theory. She translates Francophone women's writing, with a particular focus on North Africa and the Middle East: most recently, she has translated Darina Al Joundi's The Day Nina Simone Stopped Singing (2022) and its sequel Marseillaise My Way (2022). Helen's translation of selected non-fiction by Prix Goncourt-winning author Leïla Slimani, The Devil Is in the Detail and Other Stories, will be published in 2023, and she is currently working on a translation of Darina Al Joundi's Prisoner of the Levant, a fictionalised biography of the pioneering Arab feminist May Ziadeh. Helen is the founder of Translating Women, an industry-facing research project that engages with publishers, translators, and other stakeholders to work against intersectional gender bias in the translated literature sector of the UK publishing industry. She writes regular reviews and opinion pieces for the Translating Women blog, as well as freelance pieces elsewhere, and she tweets about the project at @translatewomen.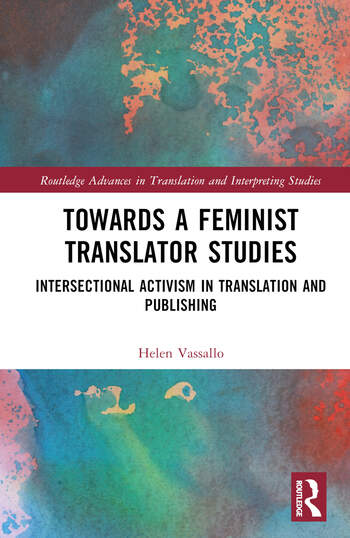 ---
Reviews
"Animated by case studies of five risk-taking independent presses, Helen Vassallo's Towards a Feminist Translator Studies brings the agency of translators and editors into sharp focus and convincingly argues in favor of an activist approach in challenging the patriarchal status quo of translated literature."

—Margaret Carson, City University of New York (cofounder, Women in Translation Tumblr)

"Towards a Feminist Translator Studies is a timely and illuminating analysis of the role played by independent UK publishers in improving the intersectional gender balance of literature translated into English. This is a welcome contribution to our understanding of the contemporary British publishing scene, and also a rallying cry to do more: to further diversify publishers' lists; to think carefully about who translates, simultaneously challenging received wisdoms about directionality in translation; to broaden our own reading by actively seeking out new and unfamiliar literary horizons."

– Chantal Wright, Reader in Translation as a Literary Practice, University of Warwick (Founder, Warwick Prize for Women in Translation)
---